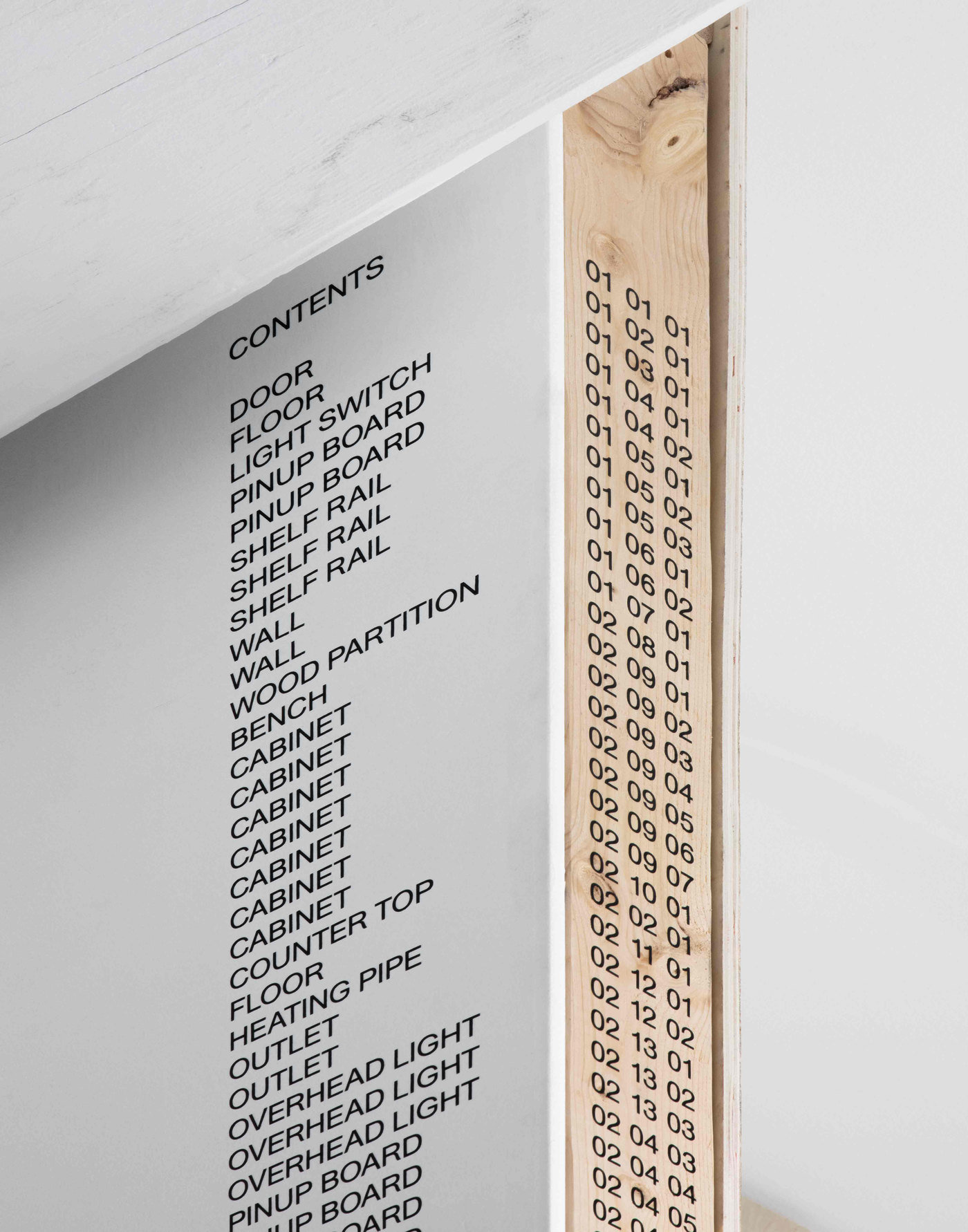 SPACE OBJECT QUANTITY (SOQ) began as an inventory system developed for our new studio and became an iterative experiment in the interactions among graphic design, architecture and performance. The project was designed in collaboration with NILE architecture.
1. Studio Space
The project started as a check-list of materials used to build out our new studio. We came up with a numerical coding system to track each item. The six digit code defines three pieces of information. The first two digits define the area (or SPACE) in the studio something lives — entry, kitchen, workspace, meeting room and archive. The second two digits, represent a number we assigned to each OBJECT, and the third is a count (or QUANTITY) of each object in the inventory. Combined, the code compiles the materiality of our studio by defining the SPACE OBJECT and QUANTITY. The system flattens architecture and the expression of the system makes graphic design dimensional.
2. Book
We then translated the coded system into a 400 page book that again flattens the architecture into a narrative space. Since the book cannot be edited like a website, or renovated like a space, it becomes an artifact of the studio at the moment of time June 2018.
3. Installation
We imagined the concept as a structure that could exist anywhere. To test this, the code was used to create an installation for the Otis Art Book Fair in Los Angeles. The installation used six built panels (one that represented each original space in our studio, and a sixth for the space within Otis). Each panel pulled specific details from the studio it was referencing — light fixtures, outlets, shelves, nylon straps, etc. Each object was coded in the same way as the original studio.

As an iteration/augmentation of the system, we collaborated with the poet Mandy Kahn to write a site-specific poem for the installation. The poem "EIGHTEEN STATEMENTS ABOUT EMPTY ROOMS" is a villanelle, a form which gains meaning from repetition. As Mandy wrote, "the visitor creates their own version of the poem by what they choose to read, what they choose to skip and what they choose to repeat."
4. Video
At the invitation of Adam Griffiths for his "transient_space" project at Design Manchester, we created a video interpretation of SOQ.
5. Website
In order to document the many iterations of this project, we created a website: spaceobjectquantity.com.


Photography
Naho Kubota (color studio images)
Sergiy Barchuk (Otis Art Book Fair)
Fiona Mentzel (black and white objects)